Profile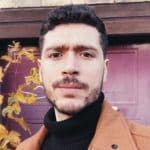 Vassilis Sideropoulos
Curriculum Vitae
Education:

Queen Margaret University

Qualifications:

B.Sc (Hons) in Psychology

Work History:

Queen Margaret University, London South Bank University, University College London, The Royal Society of Edinburgh

Current Job:

Psychology Laboratory Technician

Employer:

London South Bank University
Favourite thing to do in my job: Understanding how people 'save' information and solve problems

About Me

Experimental Psychology, Brain, Problem-solving!

Read more

I am a Greek guy who works in London, but lives in Cambridge. When I am not working, usually in the weekends, I am doing outdoor activities such as walking around the city, hiking or working out. However, there are days where I feel lazy and I just watch videos of cats. I really love cats, I can name most of the 90-100 species of cats 🐱 ! (check out this page: https://www.catgifpage.com/ aren't they lovely?). If I am around London, I usually go to see different bands or visit friends. If I am in Cambridge, I usually spend time with my partner and our friends. We watch movies, attend talks (because we all love our work) or spend time cooking!

My Work

Experimental Psychology Research

Read more

*Click on the pictures to see them in higher resolution or learn more*

This is an EEG kit, EEG stands for Electroencephalography (I know, it's difficult to pronounce! Even for me, this greek word is difficult to pronounce in English!). We use this equipment to see what happens in the brain when participants complete various tasks:

and this is how participants look when they wear the EEG cap:

Here is how we analyse the data using various software, this one is called Matlab and it is for advanced data handling:

In this one, you can see how we create an experiment in Psychology:

and here you can see how the experiment looks. For this experiment the subject had to decide whether the face was the same one image before by clicking either the yes or no buttons (it's slower in reality):

Isn't it amazing?

One of my favourites is this one, with this experiment we study attention: 

Finally, I have to work in a pub lab, isn't that cool? I support students and staff when they do research around alcohol. This was the first Bar Lab in the UK and it is next to my office:

This is how my work looks, I programme experiments and use experimental psychophysiological methods to conduct research with my colleagues. In addition I use my skills to help students investigate different aspects of cognition!

My Typical Day

Teaching, Programming, Analyzing Data, Learning, Assessing, Checking that everything's working, Supporting students and staff with their research.

Read more

When I am at work, I usually teach students how to use different software application in order to create psychology experiments that test different aspects of our cognition (such as memory, visual perception!!!) [I know it sounds amazing and it really is!]. Further to this, I also support students in understanding what their data mean by meeting them and having discussions over the data they collected. When I do not help students, let's say around summer, I work with my colleagues in assessment programmes and learning techniques. We try to identify how to make the student experience better and how to provide to students the best skills in order to get a job when they graduate. Currently, I am providing sessions on why it is important to conduct carefully online research.  Outside my technical role, I also work as a Honorary Research Assistant and with my colleagues we try to understand how people solve problems and we use equipment where we scan their brains when they solve problems. It's a really interesting research work!

What I'd do with the prize money

I'd organise public science conferences/seminars to share with people about the inedible work psychologists from various research areas do!

Read more

If I win the prize, I will spend it on organizing different types of events, conferences, practical classes or informative seminars, to showcase how Psychologists are not only doing one thing. We mostly conduct research and we work as therapist, but there are Psychologists who work for the Government, for the Health Care as well as for the creation of better Artificial Intelligence systems. Therefore, I will spend the money on creating such events to inform people, but particularly inspire young students!

My Interview

How would you describe yourself in 3 words?

Ambitious, Methodical, Confident

What or who inspired you to follow your career?

My High School Biology Teacher inspired me to follow a career in Experimental Psychology

What was your favourite subject at school?

I loved most of the taught subjects at school, but I was really interested in Science subjects (Biology, Psychology and Computer Applications)

What did you want to be after you left school?

I was admitted to study a B.Sc. (Hons) Psychology Course at Queen Margaret University.

Were you ever in trouble at school?

Never, but my friends did!!!

If you weren't doing this job, what would you choose instead?

I think I'd be choosing to attend Art School. Art is fun and similar to science! (some might disagree)

Who is your favourite singer or band?

Florence + The Machine (check them out!!!)

What's your favourite food?

Pasta or Pizza? Who doesn't love pizza?!

What is the most fun thing you've done?

Spent a night in a ghost town!

If you had 3 wishes for yourself what would they be? - be honest!

Enroll on a PhD programme. Make a change in people's life. Be happy and healthy!

Tell us a joke.

What is a sea monster's favorite snack? Ships and dip!
---
---
---